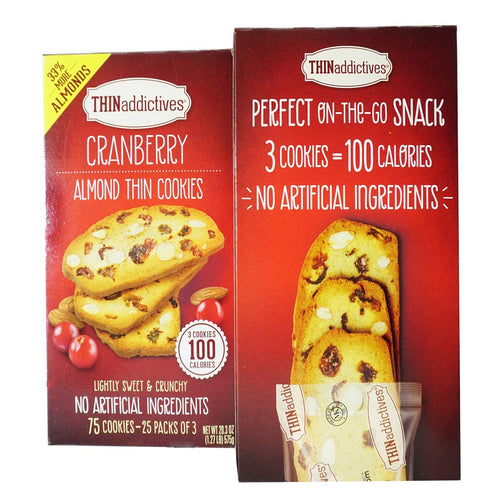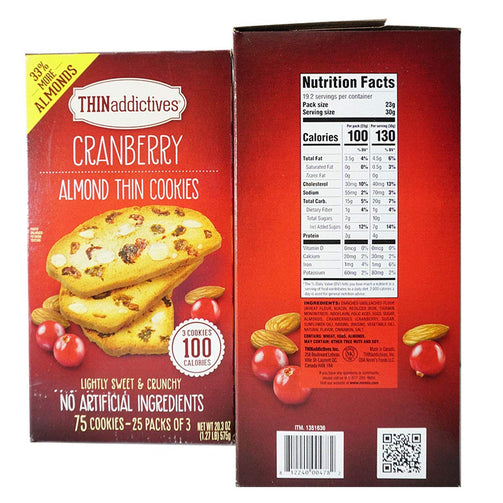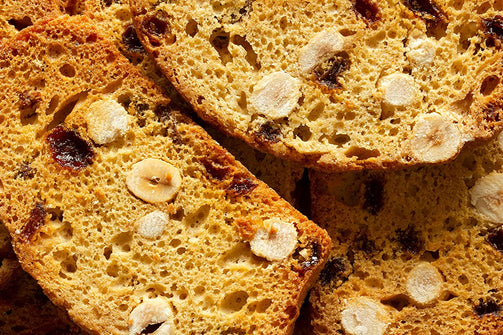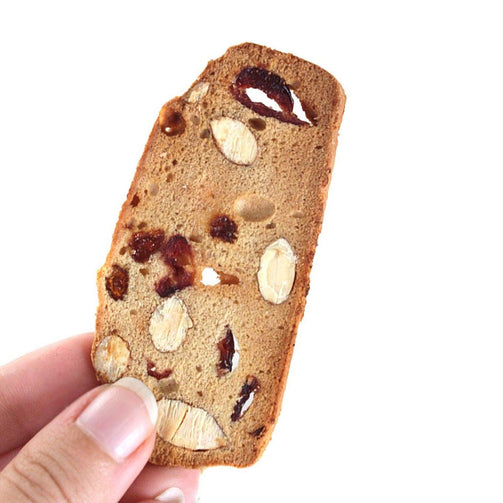 Thin Addictive's Cranberry Nature Almond Thins Cookies Biscotti Crunchy 50 Pack of Thin Addictives - 2 BOX
Thin Addictive's Cranberry Nature Almond Thins Cookies Biscotti Crunchy 50 Pack of Thin Addictives - 2 BOX
Regular price

Sale price

$40.99 USD
✅ 𝐁𝐑𝐄𝐀𝐊𝐅𝐀𝐒𝐓 𝐁𝐈𝐒𝐂𝐔𝐈𝐓𝐒: Thins bookies breakfast biscuits derives from a mixture of specially selected ingredients and a carefully skillful baking procedure that helps preserve the honesty of the grain. Enjoy Thin Addictives cookies breakfast biscuits as part of a sensible breakfast with a serving of diet dairy and fruit.
✅ 𝐃𝐄𝐋𝐈𝐂𝐈𝐎𝐔𝐒 𝐂𝐎𝐎𝐊𝐈𝐄𝐒: Sweet tooth hungers can come at unexpected instants. But with Vertebral to Nature products, you can easily feel better about enjoying delightful cookies any time of day. ThinAddictives Cranberry almond biscotti cookies go great with Coffee or Tea.
✅ 𝐍𝐎𝐍 𝐀𝐑𝐓𝐈𝐅𝐈𝐂𝐈𝐀𝐋 𝐓𝐀𝐒𝐓𝐄: Thin addictives provide the nature taste cranberry almond thins cookies. No Artificial Ingredients include in the products. Whether it's the flavors of a sweet cookie, anti artificial, crunchy cracker, our artless ingredients are deliciously encouraged by nature.
✅ 𝐓𝐇𝐈𝐍 & 𝐂𝐑𝐔𝐍𝐂𝐇𝐘 𝐁𝐈𝐒𝐂𝐎𝐓𝐓𝐈: So thin, so crunchy, so addictive for Your everyday cookies with countless taste and non-guilt. Thin Addictives are great for on the go anywhere anytime. Thin addictives cranberry almond thins cookies prepared in the united states. 33% More Almonds.
✅ 𝐄𝐍𝐉𝐎𝐘 𝐈𝐍𝐆𝐑𝐄𝐃𝐈𝐄𝐍𝐓𝐒 𝐈𝐍𝐒𝐏𝐈𝐑𝐄𝐃: Smile knowing you're generous you and your family great tasting food that has goodness in mind. Thinaddictives are made from a beloved family recipe passed down from generation to generation. Our famous almond thin Cookies are handmade quality with no two cookies alike.
Couldn't load pickup availability